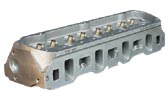 Canfield Small Block Heads are excellent street performance and race cylinder heads. Max flow figures are in the 335/245 cfm range allowing for 650+ horsepower on a naturally aspirated race engine. Unported or mildly ported Canfields also make excellent street heads when used with mannerly combinations in the 500 to 550 H/P range. They do require special headers to compensate for the raised exhaust ports.
Small Block Ford (Windsor)
Canfield heads for Windsor Fords feature fully CNC machined 54, 58, or 64cc combustion chambers and relocated intake and exhaust valves for improved flow. This will require fly cut, or custom, pistons when using a camshaft with higher lift values.
Canfield heads have a raised exhaust port (.400 of an inch) and in some applications may require special headers.
Intake runner size is 192cc, as cast. Flow figures for a competition ported Canfield will be approximately 335 cfm intake and 245 cfm exhaust.
| | | | |
| --- | --- | --- | --- |
| Part Number | Description | Price | |
| 20450-54-1B | 54cc Chamber, 302-351W Ford | $859.98 | Buy Now |
| 20450-58-1B | 58cc Chamber, 302-351W Ford | $859.98 | Buy Now |
| 20450-65-1B | 65cc Chamber, 302-351W Ford | $859.98 | Buy Now |
Canfield Cylinder Heads available in various stages of porting for all applications, both high performance street rod/ weekend warrior and all out racing.
Stage I : Assembled with Stainless Steel Valves, with a complete valve job, Manley chrome-moly retainers and locks, Viton valve stem seals and Isky double valve springs for up to .570 lift cams. (Optional valve springs are available for any lift cam, upgrade)
Stage II : Includes Stage I plus pocket porting, intake port match and port clean up as well as full exhaust porting.
Stage III : Includes Stage I & II plus full intake porting, reshape chambers to enhance flow around the valves, and polish combustion chambers.
| | | | |
| --- | --- | --- | --- |
| Part Number | Description | Price | |
| 2001-11718 | any Chamber, 302-351W Ford Stage 1 | $1,199.99 | Buy Now |
| 2002-11718 | any Chamber, 302-351W Ford Stage 2 | $1,599.99 | Buy Now |
| 2003-11718 | any Chamber, 302-351W Ford Stage 3 | $1,899.99 | Buy Now |